---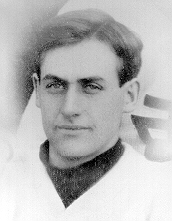 Welcome to The Carl B. Kern Fund, one of over 250 funds which make up The Dayton Foundation, a non-profit community foundation located in Dayton, Ohio. This Fund pays tribute to a person and an institution. The person is 'C.B.' Kern, Dayton Y.M.C.A. Boys' Work Secretary from 1909-1917, whose outstanding work with youth was evident from the many testimonials and resolutions made in his memory after he died tragically and unexpectedly on June 3, 1917 at the age of 37.
The institution is organized camping, which 'C.B.' recognized as one of those unique experiences which can have such a profound, positive impact on the physical, mental, and spiritual development of youth. More of permanent value can be accomplished with a week in camp with a boy than months of casual contact, he wrote in a 1915 one-page report of the activities of his summer camp, Camp Ozone, which was subsequently renamed Camp Kern in his honor.
Please feel free to browse the Kern Fund web pages and learn more about the person and character of Carl B. Kern, the institution of organized camping which he embraced so strongly, and the activities of The Carl B. Kern Fund which serve to perpetuate the memory of 'C.B.' and support "the experience that lasts a lifetime".
The "CB-KERN" electronic mailing list disseminates information about the Fund and allows camp friends & alumni to keep in touch with each other.
When Carl B. Kern established YMCA camping in the Dayton area in 1910, he was continuing a tradition that began 25 years earlier in 1885 with the first YMCA camp, Camp Dudley. A listing of YMCA Camps on the Web by Region will enable you to check into YMCA camps all around the world to see how far YMCA camping has come....
Descriptions of other summer camp funds are on-line, including a Summer Fund developed by the Associated Grantmakers of Massachusetts, Inc. (AGM).
---
Developed by: Stuart T. Weinberg, MD; Founder, The Carl B. Kern Fund
Please send your comments to: stw@pobox.com
First placed on the WWW: April 5, 1995

---
Background on The Carl B. Kern Fund
Introductory Letter - a letter written by George E. Kuhn, nephew of Carl B. Kern, in support of the establishment of The Carl B. Kern Fund.
Fund Agreement - November, 1987 (coming soon)
Donor Profile - Harold H. Prugh
Donor Tribute - Paul B. Selz, who passed away 7/17/94 at the age of 89.